PEEKABOO WHERE ARE YOU? THE VANISHING ACTS OF THE MIRACLE GUYS
#####################
Last seen with his armor in his HAND.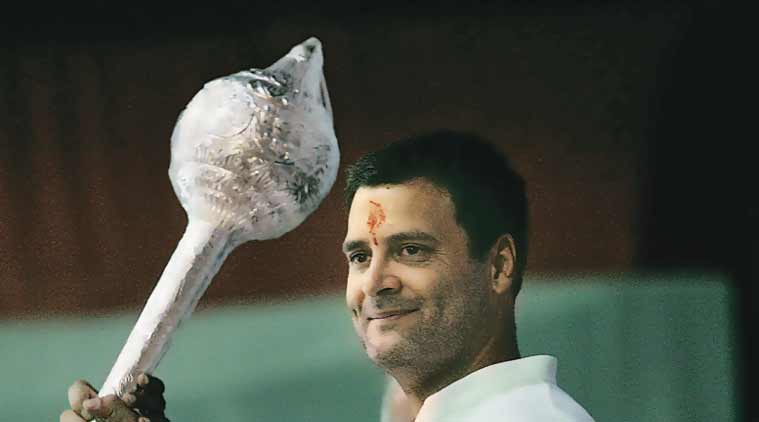 Blogging is difficult than bragging. See how Arvind Kejriwal brags on Twitter and his Soviet Leaning, China wooing friend cum destroyer- in-chief, brags on the columns of NDTV. If you have not read him you are lucky. He is Ashutosh.
Blogging on what people talk is easy. We can create humor. But, if the person does a vanishing act and all the idle civil society activists, all the calumnious columnists, all the Breaking News news peddlers, all the Congress spokespersons who searched for the vanishing prince at all places except in 10 Janpath and thought he was in Aspen, USA, all the Trinamool Congress MPs who have more Shraddha in Rahul than on Sharada Scam, all the tabloids whose work is to pluck hairs from totally balded heads and ask us "When there is no hair, why did RSS ask us to pluck it?" and all the Twitter accounts of Office of RG, Jha Sanjay, Priyanka Chaturvedi, Digvijay Singh have called all the names they cAN think of people like me, thinking that we are from RSS, it is difficult to make a blog. To make matters more confusing, they circulated this photo stating that Rahul was in Aspen attending a conference. Photo is photo It does not specify location unless there is an indication.
This photo is bereft of that. Counselling sessions are conducted in a similar manner, Baba Ramdev teaches Yoga subjectively like that, Asharam Bapu has been preaching morals in similar vein. People sit attentively and hear. Aspen is a Real Estate haven and Heaven. Real Estate agents conduct seminars in similar vein. I attended one in Hyderabad and another in USA, California. If a banner showing the details of conference is shown, there is a meaning. Latest technology helps in photo shopping a person's presence even though he is not there. Anything is possible. And by their admission, the conference was about "Disastrous effects of Technology". They said it, without saying. Let us believe them, for a moment.
In the meantime, one more popular person vanished. He said, "I am here, I am here, I am here" and Police said he was not found and was in disguise. His dog was not seen also. In Jungle Raj anything is possible. NBW was issued. He went to HC, they refused protection. He said he was planning to approach SC and unless they hear his plea he will not be seen though he is right there only.He played
"వీని, వీని గుమ్మడి పండూ వీని పేరేమి" a Telugu version of Peekaboo, where are you?"
SC said, "Surrender before 6 PM". He surrendered at 10 PM. In the meantime all the AAP guys on Social Media, all that is left in Arvind Kejriwal, all that is only Left (he was M.Phil. on Soviet Studies) in Ashutosh 83B, and all idle peddlers in media supporting them tried their best to divert attention of the issue from public by daily attacking Modi, giving him more popularity. After surrender, this guy said "I was here only all the time exploring legal options". Must have been sitting on court stairs in the guise of a beggar and Police must be knowing it and allowed him to beg as that was one kind of punishment like Devendra hiding in the tree trunk to escape Shani.
He was sent to Police Custody along with his canine, that Police wanted to know whether he bites or not. They may ask,
"Will you bite?"
"No! I can only Tweet, I am from AAP"
There ends the matter.
Now, it is for court tomorrow to decide whether he is eligible for bail and in Sec.498a cases, bail is granted in most cases. I am doubtful about Sec. 307. So, nothing is there to be surprised.
#################
Back to the Crown or Clown Prince. He attended a meet in UP calling all the senior leaders, most of whom made their presence felt by abstaining or vanishing, Rahul who promised to sit through the Chintan Sivir or Brain Storming Session for two days, talked a few words, like Apples and Steve Jobbs, hard work, unity in ranks, if any, etc., Mostly, he realized he forgot his brain in Aspen and vanished leaving the guys guessing. How can he storm their brains without him having one? And he did not tell his ranks that he was going to vanish like Lord Hanuman. See the analogy. He too crossed an Ocean and our Clown too crossed oceans.
Next morning, the Congress Spokesperson, who knew less than you and me said it was a personal visit, he went to London, no, no to Aspen no, no to his grand mother who was ailing, no,no, no, yes, yes, yes and he got confused. By evening some other Spokie with less knowledge said he was in Aspen to attend a "Weekend with Charlie Rose". Idlers like me googled, found there was no such event scheduled and it was over in July and said so. Even then, Congress did not tell the truth. They said "read good books", you will know.
So, I read all about Aspen. It was where almost all the Hollywood Stars have biiiiiiiiig homes. It is as costly as London. (Congress first mistook Aspen to London, you can read beyond lines, I don't object). That was where Steve Martin conducted his first stand up comedy and where his first movie Jerk (I saw this very recently) was filmed, real estate is increasing in value by leaps and bounds, in the Airport a Private Jet lands or leaves every six minutes, planes are parked there like any busy London street where Bicycles are parked, it is said they sell liquor, dance, music, entertainment, Operas, Street shows, sex etc., in that place. Today I read that Denver banned a few medicines made here in which there was content of "dope" of banned " Marijuana". This is edible dope in Aspen, they wrote.
As per the Aspen Times, which very many uncivil, Civil Columnists quoted in defense of the Clown Prince, stated that there was, in fact, a weekend with Charlie Rose till Monday and nothing more was known about it. Aspen Times verified with security agencies and municipal authorities and they did not have any information on the event or participants. If they are discussing current international affairs or media relations, there will be openness. It is missing. Now, it is anybody's guess. In the meantime, the Aspen Institute of Humanistic Studies, where the event is taking place has denied they have had any role in it.
( For your information the Web Site of the Institute states that Ford Foundation, on watch list in India, is one of the sponsors of the Institute, Salman Khan and Shashi Tharoor are on the Board, they have a Partner Branch each at Kolkatta and Delhi and in Delhi Branch Shashi Tharoor is a Trustee in which Rahul Bajaj is also a Trustee).
So, if the Conference was over on Monday and as the Congress Spokespersons said he would return on Tuesday, we were expecting him back for some humor. Just now, I saw that there was no Breaking News. What is he doing? Uncivil civil activists ask us these questions.
1. Why are you interested in a private sojourn?.
a) Who bothers? But why was he interested in what Modi wears? Is it public?. He is VP of a party that ruined us for six decades and embezzled or allowed to embezzle crores of crores of public money. If not, like me as an earlier Tax payer, who bothers? In turn, show Modi misusing his position as PM or CM.
2. Why are you making noise after we circulated a photo?
a) Show us the place where the photo was taken. Show us it was Weekend with Charlie. There should be a banner. Or show us Charlie Rose there. Or Ed Miliband or Iceland President, who is 72 yrs old and retiring in a year. We will not ask.
3. You created a rumor that Indira was suffering from a disease in the '70s.
a) Everything in the family was a secret. Why did Feroz separate? Why did Sanjay have to fight with his mother? Why were his young wife and son thrown out soon after his death? What happened to Nagarwala? Why was the hearing over in 10 minutes whereas nation has pending cases for four decades or more? So, when there is smoke, people suspect fire. If it is fog also, they do not believe until one proves. Rahul is a public figure, There are plethora of allegations of misuse of lakhs of crores on his party members. As a leader he is answerable. He can not just vanish and say I am in Aspen. Just do not wish the issue away. You are after Modi. No use. Be after Rahul. You will get good spicy news.
############################
Humor can generate when a person misses. His mother must be missing Son Shine. (Lovers miss Sun Shine.) One of his many fiancees may be worried. She may get his phone number and say "Hello! Where are you". "I am in Aspen." "Ass Pain? Why did you take donkey there?". "No! No!"Aspen" "Arse Pain? What did you eat yesterday? I asked you to avoid spicy foods" "No! I am in Aspen. Shhh! Call dropped." "No! It did not. I am on line" "No! It dropped. Modi is not doing any Make India. Monkey King told me" "Who is Monkey King?"
Call really dropped.
In Telugu, there is a small story. Paramanandaiah had ten Desciples. Once, they had a doubt one of them was missing. One started counting and he counted all nine and forgot to count himself. All of them repeated with the same result. They went to the Guru, and he counted them. They were ten.
Like this, who knows? Our Clown Plince is tired and sleeping in his house for the past one week and the ten and odd fools are thinking he went on Jet Plane, financed by Ford foundation. We should have Saburi, patience. We should sit singing
"వస్తాడు నా రాజు ఈ రోజు " " My Prince will be coming today." You too can sing it. Linked.
https://www.youtube.com/watch?v=wDdTpu5EFvs&ab_channel=durgaforever
###################################
SARVEY JANAHA SUKHINO BHAVANTHU