add →

5

With the world nations opening up and the concept of global village rooted deep in the minds of
In this series, I
am trying to introduce a few South Indian snacks, to start with. (I am not a professional
Chef but an amateur trying to improvise on my cooking
skills) These snacks are exported worldwide. Snacks in
India are essentially an evening meal. Post lunch, before
dinner, South Indians munch these snacks along with a cup
of coffee. No South India family misses a snack.
It is not surprising that this snack is multi million dollar
industry in the unorganized sector in South India, especially the State of Andhra Pradesh.
For those of the lucky guys/gals who savor a glass of wine, brandy, beer, these snacks add to the flavor for munching.
The most famous of these snacks is Mirchi Bajji, a deep fried item made of green chillies and Besan (Chana Floor) or Corn Flour. This is spicy. But with a little care we can make it non-spicy.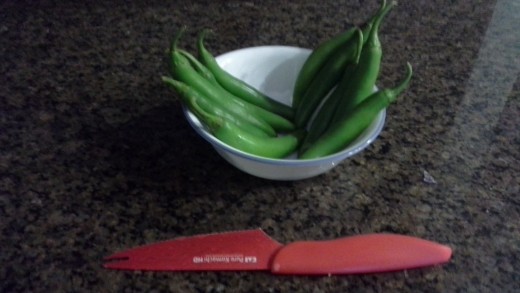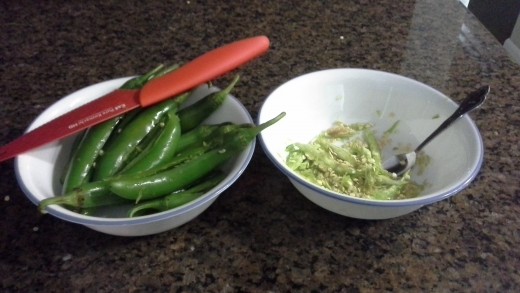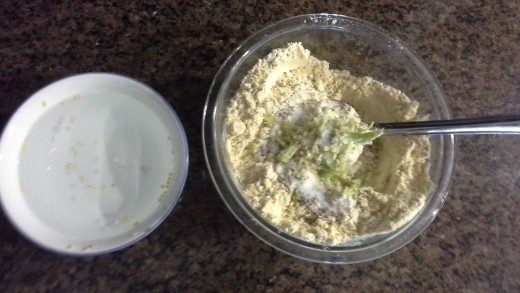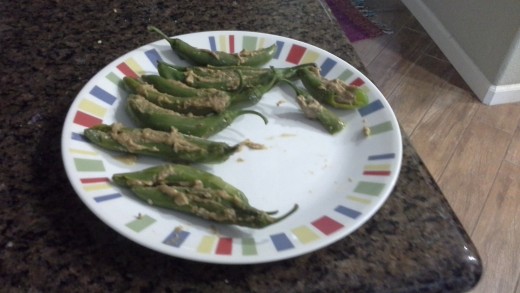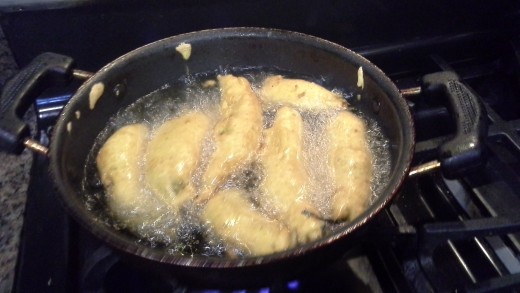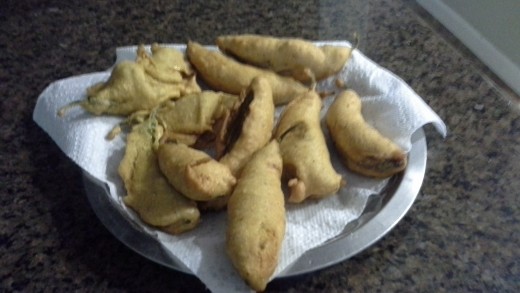 Preparation time:
20 min
Cooking time:
20 min
total: 40 min Serves: Three peop
12 numbers Green Chillies, Fat and long, with no seeds if possible
3 cups Chana Dal Flour or Corn Flour

2 Tea Spoons Aizwan

One lemon sized ball Tamarind Paste

Large Pinch Baking Soda

As per taste Salt

300 ml Sunflower/Sesame/Rice Bran oil

As per taste Rock Salt to sprinkle on final product
Wsh the green chillies clean. Take a small knife and slash the chilli in the middle. See that the chillie is only cut in the middle withot making it into pieces. Remove the seeds, if any, in the chillies and keep separatrly

In another boel take the flour (besan or corn), add the aizwan, baking salt, salt, water and mix it into a thick batter.

Take two or three table spoons of this batter into a separate cup and add the tamarind paste and mix well. Take small spoon and fill this batter in the slit stomach of each chilli, as shown the photo.

Take the oil in a deep fry pan and heat it on high till it gets sufficiently heated. To test the heat drop a small ball of batter in the oil. Once it starts cooking and floats on the oil it is indication thst oil is hot.

Take each chilli, dip in the batter (see that the chilli is fully covered with batter) and drop slowly in the pan. Repeat it until the pan is full. Cook them until they become brownish red. Do not allow them to over-fry. Remove them and keep in a plate. Repeat this until all the chillies are exhausted. Mirchi Bajji is ready. Sprinkle enough rock salt and serve hot or cold. They taste fine