STORMING THE DRAIN
RAHUL'S RAJAKEEYA SANYAAS
################################
PROLOGUE
One reported asked an analyst. "Why will Nitish commit political suicide?" Pat came the reply. "As he joined with Congrass"
Whhhhaat?
"Yes! With Cons and Grass Eating Jungle Animals"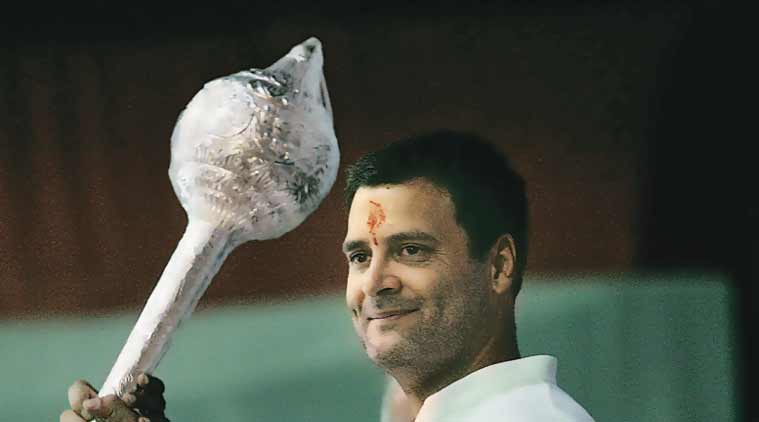 "Underlining "I have changed", Congress vice-president Rahul Gandhi, attempting an image makeover to revive his own and his party's fortunes, visited the Banke Bihari temple in Vrindavan Monday and also invoked Apple founder Steve Jobs to make a case for team work."
See more at: http://indianexpress.com/article/india/india-others/attempting-image-makeover-rahul-gandhi-visits-banke-bihari-temple-says-i-have-changed/#sthash.Q6bjDtgv.dpuf
There are three interesting things that attracted my attention. This guy has transformed himself from "Raw Hindu" to "Rahul The Hindu". Now, he started using his HAND, the symbol of his party, holding what the Eternal Bachelor (LORD HANUMAN) held from days of yore. Third, most significant point, is he has Jobs now. We thought he was jobless after demise of Congress. So he adopted the soul of Jobs to show he was not "Jobs" less.
Some Thomas may get a doubt why Apple, why not other fruits? He has an answer. Congress guys were accustomed to pull the strings for everything. Or they were incapable of anything. If sting was USP of AAP, String was was USP of Congress. And they were outside supporters of AAP in the last elections. They transferred their whole share of vote coming to 8% to AAP.
It was be like Doctor telling the parents, "Your kid has half inch, why circumcision in that?" This was an old adage. But Congress opted for it. So, if you tell Congress people AAP Pull (Read Apple) they understand. Their brains were not allowed to be developed. Even developed brains get circumcised in Congress. Look at MMS. "Oh! What a brain!", we said. The same, "we" are saying, "Ohhh! What a drain in there!" That is Congress. They call it Democracy.
He visited Banke Bihari Lal Temple.
"And this had party workers chanting a new slogan — "Banke Bihari lal ki jai" rang out as loud as "Rahul Gandhi zindabad"
Why only Banke Bihari Lal Temple? Why not others? Thomas may doubt. He has an answer. The Temple has Bihari and Lal. (Lalu in colloquial usage), So, the Congress workers shouted "Bihari-Lal(u)" Zindanad. After all, what is the size of Congress in Bihar? Half Inch? So, instead of Rahul, Lal(u) will help, they think. God bless them!
And to end any confusion on his temple visit, Congress legislature party leader Pradeep Mathur, speaking in Rahul's presence, said: "You have visited the temple. From now on, the wind will change. It will blow in your favour and in favour of the Congress."
If winds change by just visiting temples, I will not blog. I will sit in Anjaneya Temple in Hyderabad, where I donated Rs.1.00 lakh when I had money. And these secular guys mocked all Right Wing leaders for just visiting temples, nor for boons but to throw away goons.
In fact, he exhorted him not to do anything. "Do not do anything. Just attack Modi. He will shrink" Mostly, they might have placed a big mirror in front of him. This has been tried since 2001. "Attack Modi, he will destroy himself", was always the motto. He destroyed the Congress. Rahul wants to destroy that remaining lump too.
On Monday, Rahul indicated he was learning the merits of the traditional style and that he was changing. He said the Congress may have finished fourth in elections, but its ideology is still the number one.
This is like "Why did Gandhi travel in third class? As there was no fourth". If there was fifth, we would have been there
like loin cloth Gandhi, he assured them.
He accepted he did not know anything till now, but Congress projected him as PM and MMS offered his Suit-Boot. What a serioUs calamity was avoided? It would have been like sharing room with Sheldon Cooper in Big Bang Theory.
He further said till date he considered his cadres as army, Generals, Commanders and Chiefs. But, now, he realised they no more required the army. How true he sounds? When, there is nothing in the house why should we lock and appoint security? Congress is an empty house. So he said, "You are my family". He never thought beyond his family, that now has money, land, mother and himself. And a Vadra waiting to snatch whatever he has. "Come to my house and enjoy hospitality and attack Modi. I will visit Temples and change winds.", he said.
Few clapped. Others said they were thinking it was brain storming session". Brain storming is for people with brains. Rahul's brain in deep freeze. What can he storm with? So, he is visiting Temples.
He told them "In BJP, if RSS says sky is black, all others say yes, it is black. " Thomas expressed doubt. Why black, why not other colors? He has an answer. Since childhood, he heard about black only. Black deeds of emergency, black magic by Dheerendra Brahmachary, black gold (coal), black money et cetra. So, black. Congress guys too know only black color. It is easy to storm their brains with black.
FINAL OUTCOME:
But many Congress leaders were unimpressed. "This was supposed to be a chintan shivir and the initial plan was to brainstorm for two days. It has been turned into a convention. Rahulji came, spoke and left. What has come out of this exercise? Leaders have come from across the state. He should have sat through the proceedings, listened the views of the leaders," one senior leader said.
Rahul left after the inaugural session while the seniors — be it former ministers like R P N Singh, Sri Prakash Jaiswal or Jitin Prasada or senior leaders like Pramod Tiwari, Raj Babbar, Mohsina Kidwai and P L Punia — were not there at the brainstorming session.
"In Rahul's presence, (UP Congress chief Nirmal) Khatri praised the team. CLP leader Pradeep Mathur said the party is united whereas that is not the case. The leadership in the state is not able to take everyone together. But all these things did not come out before Rahul," another leader said. Some like CWC member Anil Shastri, who was a special invitee to the meeting, said "something is better than nothing".Report by Indian Express.
JAI HO BANKE BIHARI LAL!
#####################################
EPILOGUE
SOMETHING IS BETTER THAN NOTHING SAID ANIL SHASTRY THE TINY LEADER
मनोजवं
मारुततुल्यवेगं
जितेन्द्रियं
बुद्धिमतां
वरिष्ठ
।
वातात्मजं
वानरयूथमुख्यं
श्रीरामदूतं
शरणं
प्रपद्ये
।